Scrap 9 Carat Gold Prices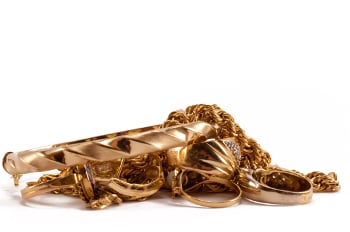 Sell scrap 9 carat gold
What do you want? Outstanding customer service.
Where can you get it? At BullionByPost.
We offer a secure and convenient process to all of our customers looking to sell gold. It's so straightforward you can do it in three steps!
Call 01 699 4396 to fix a price based on the current spot price.

Send us your gold securely and discretely by express or special delivery.

Post it to us and we will pay you within 3 working days by Bank Transfer.

To allow scrap gold being sold from Ireland the chance to cross over to the UK we lock in prices for 5 working days. Orders arriving after this time risk being re-booked at a new, lower price.
We recommend using a secure, insured postal service - such as ExpressPost by An Post - to ensure your goods arrive to us safely.
9ct Scrap Gold Price Per Gram (€)
Scrap Gold Price Calculator
Simply enter in the amount of gold you have in grams and the fineness and we will provide you with an accurate quote.
How much is 9 carat gold worth?
9 carat gold is the lowest common purity of gold on the market. It contains 37.5% pure gold. We pay anything from this up to 95% of the market spot price, depending on how much scrap you're selling.
Customers can call us on 01 699 4396 for a valuation of their gold or alternatively use our scrap gold calculator. Our prices are based on the live gold spot price, and are updated every two minutes, ensuring that you receive a fair and accurate rate for your scrap jewellery. Simply choose the carat of gold and enter the weight in grams and our website will show you just how much you could earn.
Got any unwanted jewellery? Call our customer services team on 01 699 4396 and sell today!