Gold Tola Bars - India & Pakistan
---
The Tola is a unit of measure originally from South Asia, also know as tolah or tole . Bars of 22 carat and 24 carat gold are often sold in countries in and around the Indian subcontinent such as Bangladesh, India, Nepal, Pakistan and Singapore. Popular sizes are 1 Tola , 5 Tola and 10 Tola bars.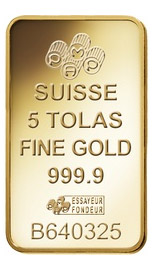 In modern western conversions, the Tola can be expressed as:
1 India Tola = 11.66g or 0.375 Troy Ounce

1 Pakistan Tola = 12.5g or 0.44 Troy Ounce
Most of our products are sold in either units of gram or ounce, we do stock a PAMP 1 Tola Gold Bar and a PAMP 5 Tola Gold Bar .
Other products close in weight to 1 tolas include:
24 Carat Gold
22 Carat Gold
Products Similar to 10 tola bars: