Sovereign Mint Marks
---
To distinguish between each of the many Royal Mint locations across the British Empire, gold Sovereigns were for many years marked with a letter symbolising the city or country of their origin. Most gold Sovereign coins were produced in London, and since the 1970s in Llantrisant, South Wales. These coins are unmarked, but many had a small mark above year of production to indicate their origin.
On some rarer coins these mint marks appear beneath a monarch's neck, a wreath or a shield, as shown below. These were only present on Sovereigns featuring the Young Head portrait of Queen Victoria.
.

Click here to view specific year gold Sovereigns or click here to return to Sovereign Coin Designs.
.
Unsure what Sovereign you have? Call our support team on 01 699 4396 or email us a photo at support@bullionbypost.ie.
.
---
London & Llantrisant: 1817 – 1917, 1925, 1957 – 2018
No Mint Mark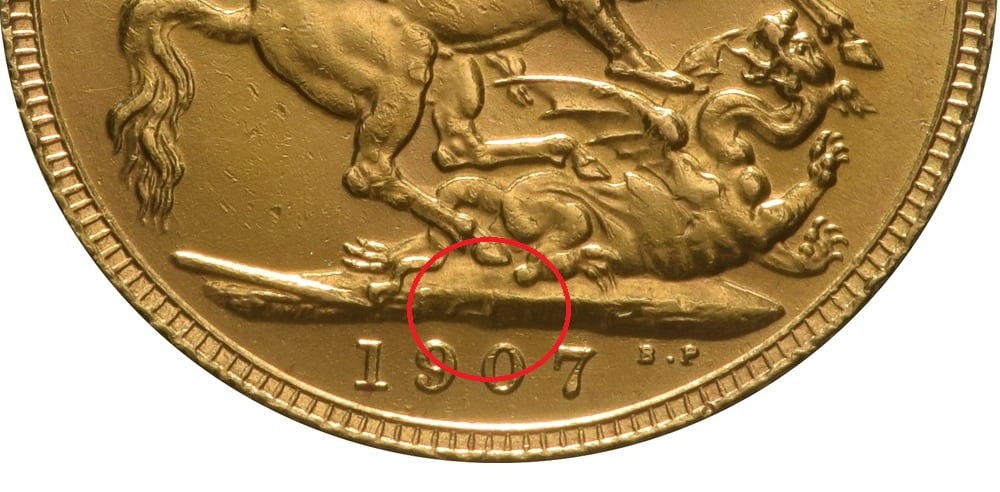 Gold Sovereign coin production was primarily in London compared to anywhere else in the world. Production was interrupted on occasion, due to events such as the First World War, and it was these events that saw it removed from circulation.
There was a very brief revival in 1925 of Sovereigns, following the Gold Standard Act as led by Chancellor Winston Churchill, but this did not live for long. Sovereign production in the UK was halted until 1953, at which point the Royal Mint made museum pieces for Elizabeth II's coronation, and then resumed again in 1957 due to global consumer demand.
Production is currently handled in Llantrisant, South Wales, where it has been since the mid 1970s.
.
---
Australia: 1855 – 1931
S (Sydney), M (Melbourne), P (Perth)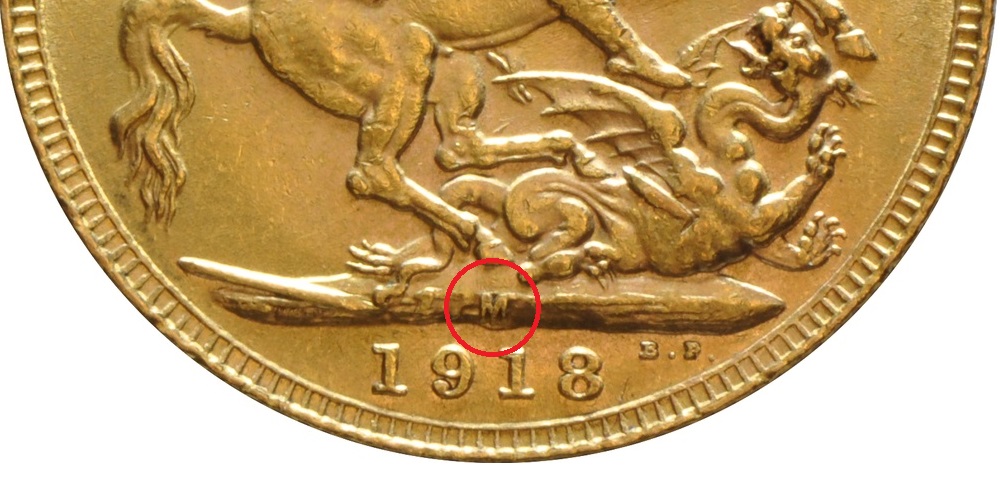 The discovery of gold in Australia was a big benefit to the Royal Mint and British Sovereign production. What was an expensive process of minting and shipping became a lot more affordable, with mints opened in Sydney and then later Melbourne and Perth, to produce straight from the gold that was mined.
Gold Sovereigns made in each location feature the corresponding letter above the year of their creation:
Sydney (1855 – 1926) =

S
Melbourne (1872 – 1931) =

M
Perth (1899 – 1931) =

P
Before 1887 the Australian-produced gold Sovereigns had their own local design on the reverse but all Sovereign coins since that date carried the George and Dragon design by Pistrucci.
To see a large format Sydney mint mark, click here. To see a large format Perth mint mark, click here.
.
---
India: 1918 (& 2013 Special Edition - Indian market only)
I (For India; minted in Bombay)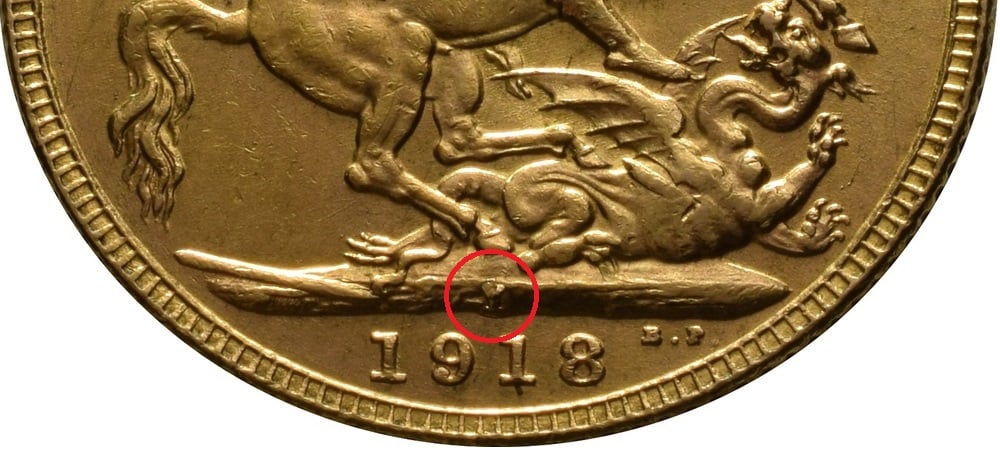 The Royal Mint's franchise in Bombay (now Mumbai) on the west coast of India operated for just one year - 1918. In that time it produced just short of 1.3 million Gold Sovereign coins, which bore King George V's portrait.
In 2013 a special batch of 50,000 Gold Sovereigns were made in India once more, to commemorate the brief stint India had in producing the coins but also to test the market for its demand for Sovereigns. These coins again bore the letter I above the year, but were only produced and sold in India.
.
---
Canada: 1908 – 1919
C (For Canada, minted in Ottawa)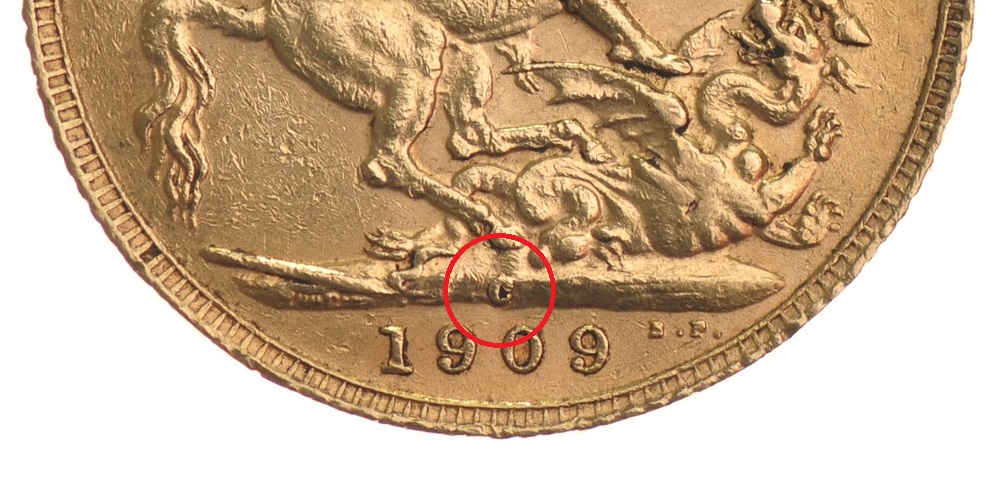 The Royal Canadian Mint, based in Ottawa, was opened in 1908 and specifically used gold mined in British Columbia and the Yukon for its Sovereigns. The letter C was used, for Canada, to mark the coin. Production lasted until 1919 (excluding 1912) but the rate was very slow - only 628,152 Sovereigns in that time – less in a decade than Bombay's one-year total.
Ottawa's main process duty was to smelt down Gold Sovereigns from the British gold reserves during the First World War to then be re-cast as gold bullion bars for the US Treasury as payment of our debts.
The Canada Mint became independent in 1931. It still operates out of its Ottawa headquarters but also has a second refinery in Winnipeg.
.
---
South Africa: 1923 – 1932
SA (For South Africa, minted in Pretoria)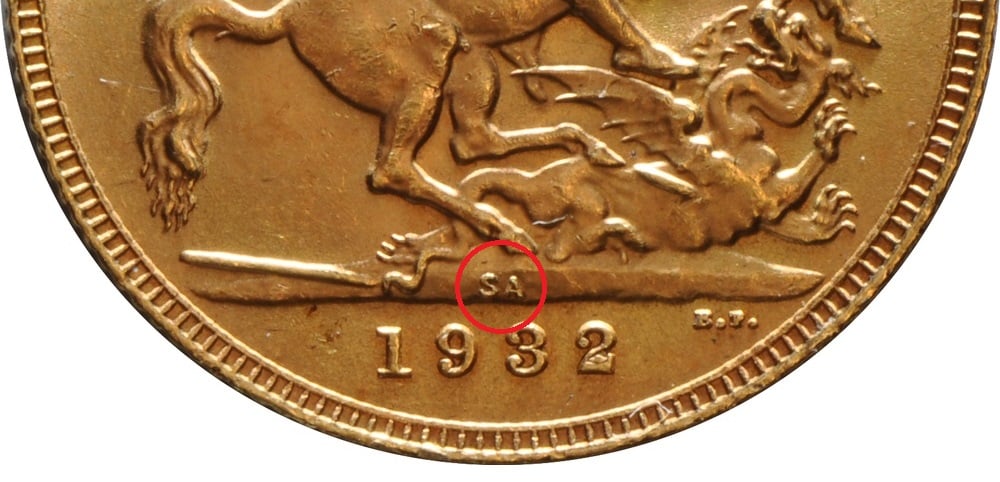 After the end of the Boer War, the Royal Mint opened a refinery in Pretoria, just north of Johannesburg, South Africa. Demand in the UK was slightly lower due to the coin not being in circulation, but in South Africa - like Asia - the coin was still very popular.
The first year of production, 1923, was a test period. Only 423 Sovereigns were minted during this point, but by the time the Pretoria Mint ceased Sovereign production in 1932 there had been over 83.4 million Gold Sovereigns created.
Another nine years after this date and the Pretoria Mint went independent to become the South African Mint, which it still is today.